There has been a windsurfing school at Percuil since 1980 so this year marks our 30th birthday. Watch the news section to see about our special celebration. We have watched the transition from teak wishbones to high tech carbon composites used in boards and rigs these days. This has made windsurfing a much easier sport to learn and boosted performances hugely.
We have a wide range of equipment available and offer tuition to Level Two and all the junior scheme. In 2002 we achieved Team 15 status which is a new RYA initiative to generate more interest in youth racing. This runs as a club on Saturdays at present.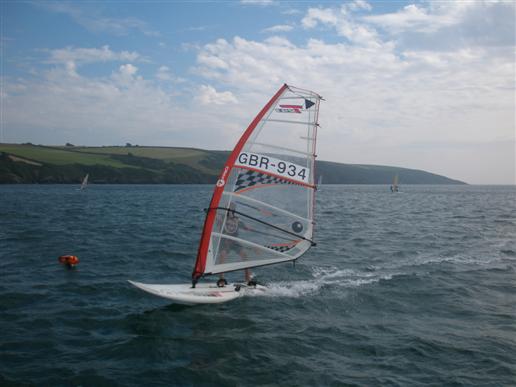 We will be hosting our T15 in May and hope to continue our run of success. We have won the SW region five times but are still hoping to take the National title one day!. We have team members in the the RYA Zone again this year, well done Lucy, Scarlett and Lowenna. A great testiment to their skill and hard work. All our coaches are now exT15 sailors.
Junior scheme
Stage One teaches you the basics of getting on the water and sailing the board across the wind and back
Stage Two gets you improving your tacks and gybes and making progress towards and away from the wind.
Stage Three time to hook in and hang on, start to tune your rig and improve your stance.
Adult scheme
Level One this gives you a sound introduction to the sport, it will get you sailing and cover the relevant theory and safety points.
Level Two the aim of the course is simply to brush up on the techniques that will make launching slicker, the turns faster and slip into a harness and adapt your stance to cope with more power.